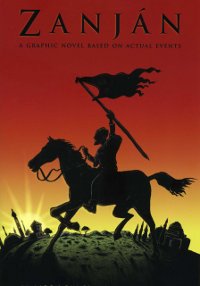 Zanjan (a graphic novel)
|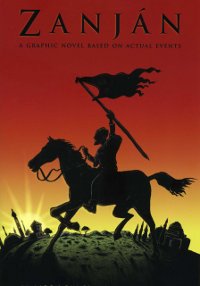 Zanjan is a fictional graphic novel based on the true events that happened in Zanjan, a town in northwestern Iran, in the mid-1800s. It is a new approach to showcasing Baha'i history in a way that is appealing to a demographic that might not pick up a large book on history. This could inspire them to learn more about the events that take place in the book, and other parts of the story of the early days of the Baha'i Faith.
I asked Aaron Kreader, one of the authors, for some insights about how the finished product came about.
1. Why did you choose to do this project?
Aaron: As a kid, I couldn't pay attention to any Baha'i classes. I was basically there to play and have fun. But something happened when our teachers started sharing Babi history- in all its graphic detail. I suddenly realized this was a very dynamic Faith. It was full of awesome heroism, terrible horror, and profound sacrifice. Stories of courage honor and valor beyond human capacity. Suddenly I felt the gravity of the Revelation. One so strong people cast their lives away like it was nothing. As I studied art later in life, I wanted this to be conveyed in a medium for youth and young adults. Something that would grip people and show them the power of the Faith through graphic novels.
2. How long did it take, start to finish?
Aaron: 3 years for my part of the art and design. I was able to work on it only nights and weekends and to complete over 100 pages of art in that time I was working on average 1 to 2 hours each night on Zanjan.
3. What were some of the obstacles that you ran into in the process of creating this book?
Aaron: The first obstacle was the fact that I am not a writer. After some effort, Aaron Emmel agreed to work on a script. It was a long process. Aaron E. is very careful about his process, and I had some strong ideas about making the script something a person who never heard of the Bab would understand. He did an awesome job! Then it was a test of endurance, working on something every day for over 3 years requires a lot of prayer and assistance.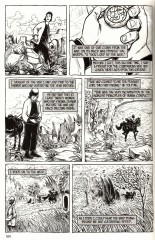 I constantly prayed to Nabil, and Mishkín-Qalam (whose picture I hung over my desk) to guide my hand and be true to the history. There are countless stories of little obstacles made suddenly clear, but one of the most memorable was when I was trying to resolve a problem in the manuscript where a Babi coin is being looked at close up. The script called for the coin to be shown with the inscribed Arabic phrase "O thou lord of the ages." Well, I realized I didn't know Arabic, I couldn't very well just fake it, in case an Arabic speaker saw the image, and I sure didn't understand the art of calligraphy. I was explaining this to a new neighbor from Egypt who came over to get to know us better. He asked about the project, I was telling him where I got stuck, and he mentioned he was a Master Calligrapher and not only that, he would be happy to make a circular design of the phrase for me. I was floored! It came out wonderful.
4. What is something surprising that you learned?
Aaron: The most surprising thing I learned is how much of an impact Zaynab had on people, especially the young women. I am amazed at the sort of divine assistance it must have taken for Zaynab to take up arms in defense of the oppressed. Especially in her age and area, and in the face of men so cruel and blood thirsty. It is truly awesome. I also learned that art often takes on a life of its own. The history is so sacred to me I didn't want to make one line out of place, but of course I am human. The final work means something unique to the youth, junior youth, and adults that read the book. Emmel wrote a home run script, its really a powerful yarn.
5. Are you considering doing more books like this?
Aaron: If there is a need for more, definitely. I know this sort of project has a time and place. It is on the edge. It's very new for Baha'is to see the history of the Faith in a graphic novel. Lots of sensitive aspects to that – and we are already getting some resistance and push back – in a good way. It challenges our concepts of what "should be" so it is offering a chance for growth. But the goal is that the book is a bridge to connect us with our rich history, reading great titles like God Passes By, and The Dawn-Breakers are the hopeful next steps for someone who loved Zanjan. While it would be impossible for me to do the entire history, some aspects would be great to do in another book.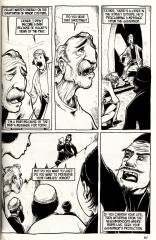 6. What insights do you have for people who are interested in doing projects like this?
Aaron: The main thing is understanding your strengths – instead of focusing on the aspects you are poor at, work with other professionals to fill out those aspects. While we don't have "Baha'i Art," I think the future of Baha'i art might be closely aligned with the main Baha'i principle of unity. Various disciplines coming together in close connection could yield art on a level we can't yet imagine. If art masters worked together rather than competing – and you can imagine the end result being awesome.
—————
You can purchase this book through the Baha'i Distribution Service.