You can now own a NineteenMonths.com calendar—plus a giveaway!
|
We began NineteenMonths.com in March 2010 as a way for photographers to reflect on the significance of Badi' calendar and share their art with others. Who knew that we'd still be going strong—with some changes along the way—more than seven years later?
Over the years, the editors (and readers) have discussed the possibility of creating a photo book, anthology, or some other physical product to share our photos with a broader audience. However, time and logistics made such a feat impractical, so we tabled any serious discussion. But that was then. Now, and quite by accident, we found a way to bring NineteenMonths.com photos to print.
Earlier this year, the Baha'i Publishing Trust of the United States approached us to see if we'd be interested in collaborating on a wall calendar. Of course, we jumped at the chance. The 15-month calendar is a hybrid of the Gregorian calendar (beginning January 2018) and the 175 B.E. Badi' calendar (ending March 2019).
To celebrate, we're giving away free calendars to two lucky people. To enter to win, simply subscribe* to our email newsletter between now and September 30 (you can sign up here), or enter by following us on Facebook and commenting on our post. Due to shipping concerns, you must reside within the United States to win—sorry to all our other friends!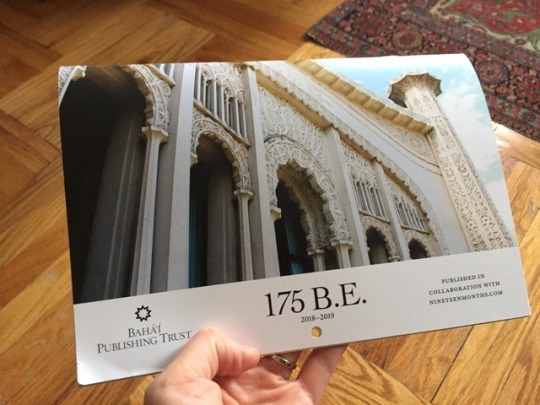 All told 15 photographers contributed to the project (regrettably we couldn't include all of the many artists we've worked with over time), and we're so pleased with how it turned out. All thanks go to the wonderful people at Baha'i Publishing (Bahhaj, Nat, and Patrick) for creating a high-quality calendar that's also very affordable ($4.95). And thanks also to our readers for staying with us for seven years!
You can buy your own copy at BahaiBookstore.com or enter to win a free copy by the two methods listed above.
*All new and existing email newsletter subscribers will be eligible to win.