The People with No Camel
|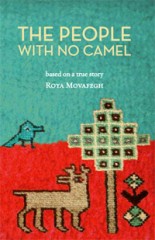 The story of the Baha'is in Iran can be told in a thousand ways. Whatever the medium, it is a powerful and heartbreaking story. The way that Roya Movafegh approaches the saga of her family's escape from Iran in 1981 is from the perspective of a ten-year-old girl. Looking through her eyes, the details of life under a regime whose goal is to annihilate a group of people whose only crime is that of belief in the Baha'i Faith are stark and very real.
I have never been to Iran, never been to the place where my ancestors lived for millennia, but Roya's words took me to my lost homeland and gave me a glimpse of the struggles that so many people, including many of my relatives, had when they fled Iran. One of the things I appreciated most about this book was her ability to include details that brought a visual aspect in my mind's eye without distracting from the story itself.
There are 200 pages in The People with No Camel, but the first part of the book was a fast read. The second part, which was only 40 pages, is a brief parable which has references to Persian mythical characters. It is a little confusing but has beautiful imagery. I enjoyed this book and it is important that these kinds of personal stories are shared, to humanize the struggle for human rights and to help us understand the impact that individuals can have. Roya's story could have been my own.