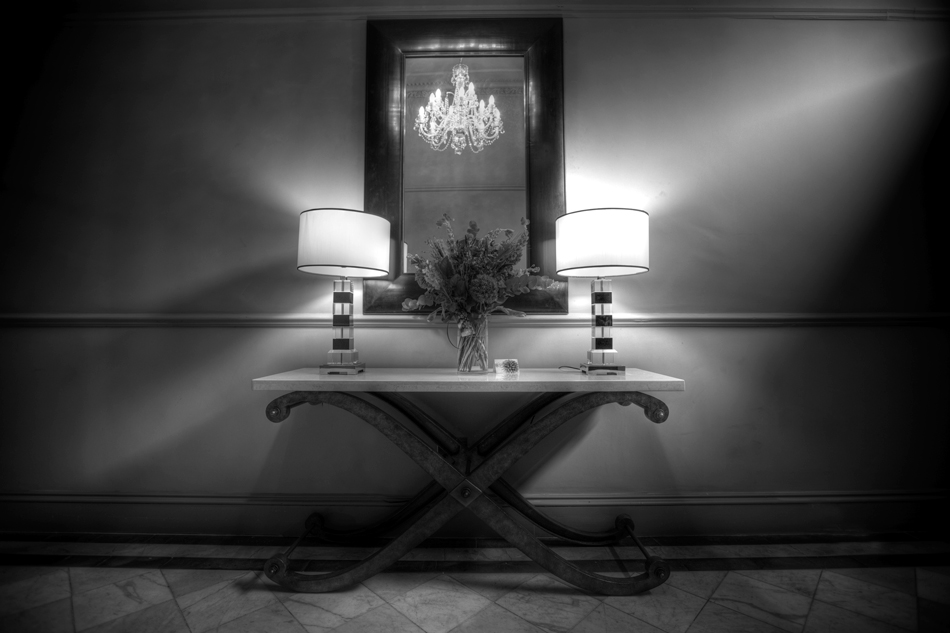 Light: Edinburgh, Scotland
|
Light scatters in multiple directions, from the chandelier in the mirror to the lamps and light well above the door in this entrance hall of the new Edinburgh Baha'i Centre, Scotland.
The Tablet and story below, was revealed by Abdul Baha in this same city of Edinburgh in 1913. It is shared here, from the book 'Century of Light.' published by Universal House of Justice, 2001
"The image used by 'Abdu'l-Bahá to capture for His hearers the coming transformation of society was that of light. Unity, He declared, is the power that illuminates and advances all forms of human endeavour. The age that was opening would come in the future to be regarded as "the century of light", because in it universal recognition of the oneness of humankind would be achieved. With this foundation in place, the process of building a global society embodying principles of justice will begin.
The vision was enunciated by the Master in several Tablets and addresses. Its fullest expression occurs in a Tablet addressed by 'Abdu'l-Bahá to Jane Elizabeth Whyte, wife of the former Moderator of the Free Church of Scotland. Mrs. Whyte was an ardent sympathizer of the Bahá'í teachings, had visited the Master in 'Akká and would later make arrangements for the particularly warm reception that met Him in Edinburgh. Using the familiar metaphor of "candles", 'Abdu'l-Bahá wrote to Mrs. Whyte:
"O honored lady!… Behold how its [unity's] light is now dawning upon the world's darkened horizon. The first candle is unity in the political realm, the early glimmerings of which can now be discerned. The second candle is unity of thought in world undertakings, the 128 consummation of which will erelong be witnessed. The third candle is unity in freedom which will surely come to pass. The fourth candle is unity in religion which is the corner-stone of the foundation itself, and which, by the power of God, will be revealed in all its splendor. The fifth candle is the unity of nations—a unity which in this century will be securely established, causing all the peoples of the world to regard themselves as citizens of one common fatherland. The sixth candle is unity of races, making of all that dwell on earth peoples and kindreds of one race. The seventh candle is unity of language, i.e., the choice of a universal tongue in which all peoples will be instructed and converse. Each and every one of these will inevitably come to pass, inasmuch as the power of the Kingdom of God will aid and assist in their realization."