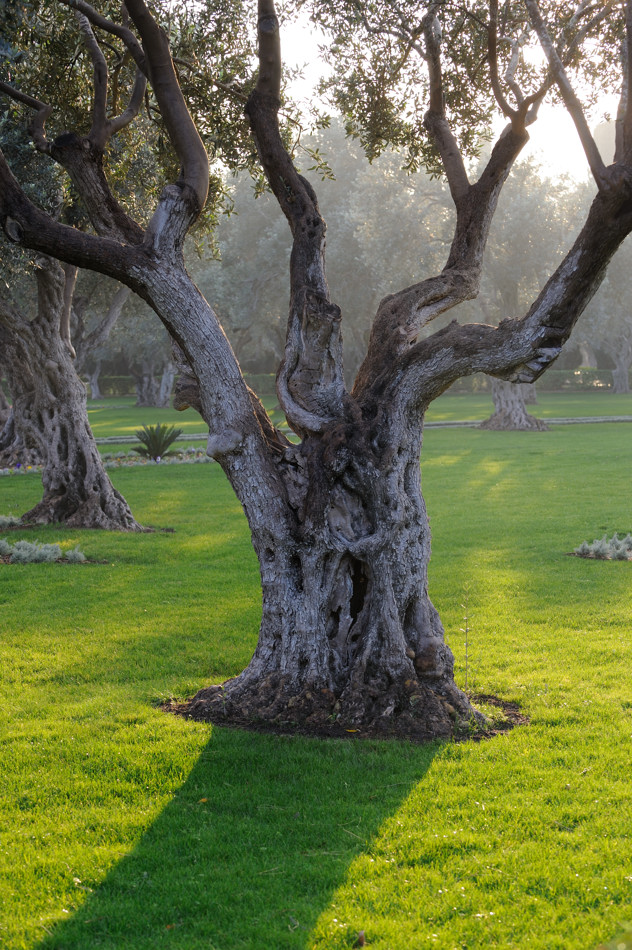 Iran: One Prisoner's (Human) Rights
|
By Sabrina Van den Bos
Tahzib grew up with stories of his grandfather in Iran.  The Revolutionary Guards executed him in 1980, for the crime of being a Baha'i.  He came from the town of Sangasar, where everyone was known for being "hardheaded," Tahzib recalled.  The persecution of the Baha'is appears one of the few constants in Iran's otherwise turbulent modern history.  Now, Tahzib fears, his great-uncle faces the same fate as his grandfather.  Jamaloddin Khanjani is now serving a 10-year prison sentence in Gohardasht prison.
At the age of 77, Khanjani is imprisoned with six other Baha'is. When the Iranian regime forbid Baha'is from establishing formal institutions, those seven Baha'is became the go-to for the entire community.
Iranian authorities arrested the group in May 2008 under charges ranging from espionage to spreading corruption on earth to cooperation with Israel.  This is Mr. Khanjani's fourth arrest and, after nearly three years, his longest period of detention.
Mr. Khanjani's eldest daughter, Ferida, 53, works as a chiropractor in China. "Ferida," Tahzib says, "worries about the very small things.  Has he lost weight? Is he eating properly?"  She was allowed to talk to him via phone once from prison.  Officials rarely allow contact with the prisoners. Last year, when he was in Evin Prison, the family learned that he "was cold, very very cold." They attempted several times to convince prison officials to allow a special pair of cotton long johns into the prison.  The guards eventually gave in, because of Mr. Khanjani's age.
The Baha'i Faith began in 19th century Persia under the prophet Bahá'u'lláh, independent of Islam.  However, many of Iran's religious elites in believe that there can be no prophets after Muhammad, and as such view the Faith as a heretical offshoot of Shi'a Islam.  This has spurred continued persecution since the Faith's inception.
While the Ayatollahs perceive the Baha'i Faith as a continual ideological threat, under the Shah, much of the persecution ebbed slightly. During this time, Khanjani left Sangsar to work at the Pepsi Cola Company, began another business, and then built up Iran's first automated brick factory with hundreds of employees.
After the 1979 Islamic revolution, the new regime heightened official targeting of the Baha'is in Iran. Khanjani's brother-in-law from Sangsar was one of hundreds of Baha'is executed in the early years of the Islamic Revolution.  Authorities also imprisoned, tortured and then released Khanjani's brothers-in-law. He died soon after.
The government eventually confiscated Khanjani's brick factory.  He tried to start another business, but authorities prevented him – and his family members – from obtaining loans and banned them from traveling abroad.  Around this time, Khanjani became more active in the administration of the Baha'is of Iran.  He served on the third National Spiritual Assembly since the revolution, a nine-member nationally elected governing body.  The entire first Assembly had disappeared.  In 1981, authorities executed eight members from the second Assembly. So far, they have executed four of the members from the third for charges like "corrupting humanity."
Persecution diminished when the United Nations, Human Rights Watch and several countries, including the United States and the United Kingdom, brought attention to the Baha'is in Iran through letters and public statements.
In China, at the hospital, Ferida schedules back-to-back appointments during the day and distance-learning classes at night.  She keeps herself busy, as her father instructed, "in service to humanity," channeling her efforts into pursuing her profession.  Soon after the 2008 arrest, a patient between questions about diet and posture asked, "How are you?" Ferida paused, solemnly shook her head, "It's not easy … we haven't heard anything!" then continued on with the appointment.
In England, Ferida's cousin and Tahzib's mother, Bahar Tahzib, met with Prime Minister Gordon Brown, who continued his public denouncements of the treatment of the Baha'is.  She wrote an op-ed in the Guardian ("Persecuting the Baha'is, Iran is conducting an obsessive witch-hunt against its largest non-Muslim religious minority") and appeared on the BBC and other news outlets in an effort to stir international awareness about the current trials.
Mr. Khanjani waited in jail for nearly two years before authorities set the date for his first court appearance.  The secret session lasted three hours.  Officials barred their lawyers from the courtroom, but the lawyers argued their way in.  According to Tahzib, officials mistakenly looked to Khanjani as the de facto leader, because of his age.
Because of his age, Ferida and the family worry more.  Stories filter back to the Tahzib home in England.  Authorities imprisoned Khanjani in the 1980's, but released him after two months.
When asked why his great-uncle never left Iran after thirty years of persecution, Tahzib explains that it was for love of country and "an unwavering belief in these ideas being the only solution to developing their society and restoring it to its former greatness. … This is a solution, he has a role to play." To leave, Tahzib explains, would be "abdicating that responsibility."
Mr. Khanjani's wife, Ashraf, lost two brothers to religious persecution in addition to the three decades she suffered with their husband. Last year, authorities arrested her granddaughter with her husband and eight other Baha'is accused of arms possession in connection with December's anti-government Ashura demonstrations.
In the midst of everything, Mrs. Khanjani remained resolute.  When I spoke to him last year, Tahzib recalled, "The last time I heard her speak, you could hear the resignation in her voice, almost a submission to a process and a guide of Faith in whatever its outcome. … There's a Persian saying that it will all be fixed in the end."
Mrs. Khanjani passed away nearly two weeks ago on 10 March.  Authorities barred Mr. Khanjani from attending his wife's funeral.  Over 5,000 others came to the ceremony, though.  Police and security officers monitored the whole event and filmed those in attendence.  It was a sign of the times: the continued persecution, the denial of basic rights, of the persistent cause for concern over what's to come, but also of the solidarity and support for those imprisoned and the community at large.