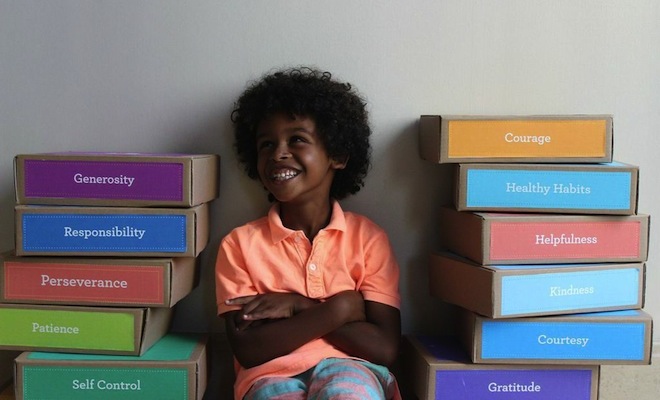 How a Small Idea Became a Big Kickstarter Campaign
|
Archana Jiwani and Martha Martinez are the creators of Happy Heart Kid, a new character education program for kids and parents. With days left to successfully fund their Kickstarter campaign, I spoke to them about what they learned in creating this product.
The two women met while teaching neighborhood children's classes in New York, and at the time they probably didn't foresee that they'd be launching a new educational line for kids. But that's exactly what happened.
As they served together, Archana says they discovered that parents wanted quality education for their kids—including character education—but most of that instruction was taking place in a classroom environment. Where could parents turn for ideas and tools?
"What we realized is that there are so many toys/games/products out there for children that focus on bringing out a child's vanity and inner consumer. There is not a lot out there that is created with the noble nature of a child in mind. We are creating something that looks at children as potentially being the light of the world and we see how play time can be a space where children can actively learn/play/imagine themselves as noble beings," says Martha.
And that's no small task.
Over time Archana, who has a business background, and Martha, who works as a nanny, developed and refined their concept of Happy Heart Kid. They brainstormed ideas, tested them with children, and talked to parents about how to speak to young kids about virtues. "We also did extensive research on products already in the market that also promoted character building skills and we looked at what worked with the products and what didn't," says Martha.
Once they had a working prototype, says Archana, they enlisted the help of a friend and organized a parents workshop, allowing the parents to see and use a Happy Heart Kid virtues box. Talk about trial and error. That first workshop, she reveals, did not go as smoothly as planned—due to traffic, she ended up late to her own workshop. And she adds, the parents didn't respond to the activity boxes exactly as she had hoped. But what they did offer was notes and insights.
That feedback was essential in helping Archana and Martha refine their product's message. "Parents have an amazing way of explaining complex ideas such as empathy to their children in such simple yet profound ways," says Martha.
They even redefined how they portrayed the products to parents. For instance, Archana points out that they quickly realized that some folks have an aversion to words like "moral education" or "virtues." The creators needed to find a way for these secular kits needed to stay true to their spiritually-inspired roots while being accessible to many parents. For now, they've settled on calling these "character building activities." However because character traits like empathy and healthy habits like patience influence every sphere of our lives, it's hard to pin just one label on these boxes.
The pair kept testing their products with parents and kids—and the materials now available on Kickstarter have been perfected through 12 or 13 versions!
Each kit has four components: a workbook, fun and creative activities, imaginative play, and connecting and sharing.
Archana and Martha see these kits less as toys and more as resources for families. They can be used in any way parents and kids like, but what's really special is that they open up a chance to talk about complex and important topics. "What I realized after reflecting with parents is that each toy, product, and book out there for children really facilitates what an interaction will be all about. For example a lego set—the interaction will be about building, the conversation most likely will be about building. So having a set of activities or a product that is created with the purpose of dialoguing and reflecting with children about character development helps to promote that sort of interaction and dialogue."
So what's next for this pair—and Happy Heart Kid? Martha says they're constantly tweaking the products. And their Kickstarter campaign promises additional boxes focusing on more character traits. But they're also offering their kits to classrooms. "We constantly got feedback to approach this product to schools and teachers said they loved it. We are offering a classroom bundle to get our materials to classrooms in need and have had overwhelmingly great response on Kickstarter thus far," says Archana.
Archana says she knows Happy Heart Kid isn't for everyone. She's fine with that. For now, there's Kickstarter campaign to think about—and a whole lot of work to do.
Check out their Kickstarter video below. And if you like what you see, help Archana and Martha reach their Kickstarter goal by pledging here.