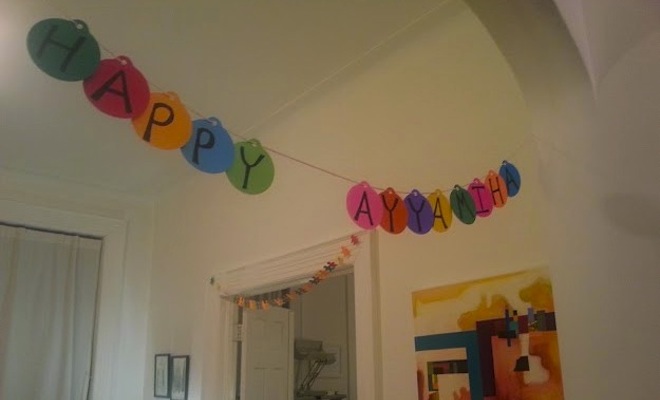 Not Just for Kids: How We Celebrate Ayyam-i-Ha
|
I grew up in a Baha'i family with happy memories of Ayyam-i-Ha, but as an adult I've adjusted my thinking about the special days that precede the Baha'i Fast.
"Ayyam-i-Ha is for kids." I don't remember where I heard it, who said it, or if it was only implied. Wherever the idea came from, I trailed back to the writings to make sense of it.
"The days which Thou hast named the Ayyam-i-Ha in Thy Book have begun, O Thou Who art the King of names, and the fast which Thy most exalted Pen hath enjoined unto all who are in the kingdom of Thy creation to observe is approaching." —Baha'u'llah (Prayers and Meditations) 
I couldn't find anything about the little ones. But it turns out, what I learned about Ayyam-i-Ha as a kid holds up. The word means "The Days of Ha" – and "Ha" is an Arabic letter that, in the Baha'i writings, symbolizes the Essence of God.
The Essence of God.
Weighty designation, right?
So how do we celebrate? As with most of Baha'i life, there's no rote method, so I reached out to Baha'is from all over the world to hear different experiences. Here's what they had to say about their evolving understandings.
Kia Wheeler grew up in Massachusetts, USA where her parents sent her to school with treats during Ayyam-i-Ha, along with a note explaining the holiday and the Baha'i faith. There were also parties at home and her Baha'i school made service projects in the community a priority. Looking back, she says, "My parents and community… made us feel so cherished. It was not Christmas or a birthday…. As a Baha'i we had the privilege to know Baha'u'llah and celebrate Ayyam-i-Ha… a joyous bounty."
Simeon Kohlman Rabbani lives in Recife, Brazil with his wife and two kids. They attend a community gathering where folks bring their friends. They also give gifts to their kids "without trying to go too overboard." Last year they bought one gift for each day of Ayyam-i-Ha, but the kids couldn't wait and opened them all on the first day. Hey, it happens! His young children are beginning to more fully grasp the concept of generosity, which Simeon says, for him, is one of the most important aspects of these days.
Luthando Mazibuko grew up in Port Elizabeth, South Africa with a Baha'i mother and a step-father who wasn't a Baha'i. While he attended some community events in those years, moving to the United States gave him an opportunity to form closer bonds with Baha'i family members who traveled to be together. These days, he associates Ayyam-i-Ha with the Fast. Learning more about the significance of the letter "Ha" has helped him feel more spiritually connected to the season.
Jose Uribe celebrated his first Ayyam-i-Ha in Montreal, Canada, where he became a Baha'i. He says Ayyam-i-Ha struck him as "institutionalized lightheartedness" after becoming acquainted with the faith through scholarly discussions, reverent devotions, and a study of the texts. While he loves the idea of using these extra days in our calendar to have fun, he also appreciates the values of charity and generosity. "I think that needs to be emphasized more," he says, adding that these things "infuse substantial joy into your life and the lives of others."
So from what I can tell, Ayyam-i-Ha isn't just for kids. Thank goodness!
Ayyam-i-Ha begins on the evening of February 25th. How will you celebrate and serve this year?