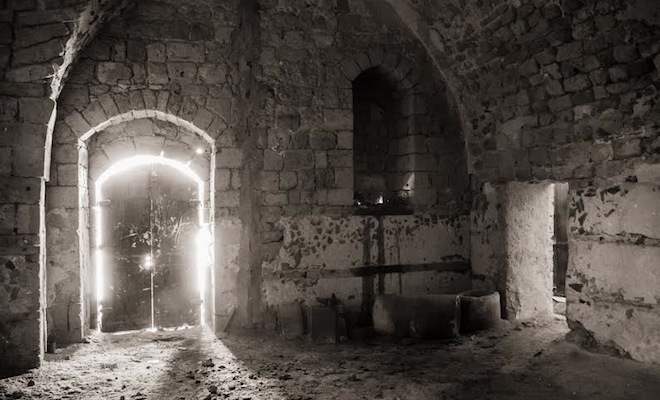 Honoring Iran: Stories That Defy Borders and Shackles
|
My heart aches, for you do not seem to know
the worth of that subtle inner star.
If only you could see the lovely prisoner who lies
prostrate in who you think you are.
(Mahvash Sabet, excerpt from "The Sacrifice," Prison Poems)
As the festival of Ridvan concludes, our hearts are heavy with the news that a historically important Baha'i cemetery in Shiraz is being destroyed. While this is not the first time an Iranian Baha'i cemetery has been targeted, it does not diminish the sadness of the event or its significance, especially as the "ten Baha'i women of Shiraz"—women whose stories many of us now know by heart—are interred there. Mindful of this event, and the fact that May also marks an anniversary of the Yaran's imprisonment, a reflection on understanding these deep sacrifices through means available, stories:
I was born in the 1980s, after the 1979 Iranian Revolution and before the infamous political executions in the summer of 1988. As an American without a trace of Iranian ancestry, it might have seemed strange to others that these two events meant much to me growing up far away from the Middle East in the Midwest.
But Iran always meant a great deal to me. I was born into a family of Baha'is and some of the members of our faith community were refugees from Iran. After prayers or meetings, over tea and refreshments they would, if asked, recount harrowing journeys, stories of imprisonment, of disappearances. I was young—too young to grasp the full political significance of these events—but they left their mark. Who wouldn't be moved by
the stories they told about Mona
, who was hanged at 17, along with 9 other women, for teaching children's classes. The girl who kissed her noose, the angelic youth of the prison. Mona shared her birthday with my sister and was killed the same year my brother was born. And she was a Baha'i, like I was.
Years later, I read Persepolis, a graphic novel memoir by Marjane Satrapi. It was her story that motivated me to dig deeper into recent Iranian history—to look beyond the lessons I'd received in Baha'i children's classes or high school history. Marjane was not a Baha'i; she was political, like her parents. This fact was enough to put her, to put her family, in danger. Reading her story, I remembered sitting on the floor after Feast while the adults spoke, listening to them discuss events in Iran. Her narrative breathed life into all the news stories and numbers I'd heard, just like Mona's had years ago.
This is the power of storytelling. Even miles and years removed, the stories of strangers can move us, can change us, make us see like for the first time. And hopefully, when our hearts are moved, we move to act.
Last year, I was working at Baha'i Publishing when Mahvash Sabet's Prison Poems, adapted from Persian by Bahiyyih Nakhjavani, came into print. When it arrived at the office by mail, we opened the package and I let out an involuntary gasp—of course, I knew it was special. By that time, Mahvash and the other members of the Yaran had been imprisoned for 5 years already. I knew the date of their imprisonments and the name of the prison where they were held. I knew their charges and the details of their trial. But when I read her book, little by little over the course of a month, I realized how little these facts had ever moved me. Her struggle, her hope, her victories, and failures were contained in these verses. Reading her poems made all the difference and for the first time I felt I truly understood the significance of her imprisonment. Like all well-told stories, her poems were emotionally resonant; her haunting and hopeful words forged a connection with the reader. Her poetry did more to educate me than all the reports or talks I'd consumed on the unjust imprisonment of the Yaran.
And so, on the sixth year of the imprisonment of six of the Yaran (Mahvash, the seventh, was imprisoned in March 2008), I am revisiting her poetry and sharing it with others.
When I read her words, I will remember not just her, not just the other imprisoned Baha'is in Iran, but all Iranians who face injustice, imprisonment, or execution—the religious minorities, the students, the journalists, the dissidents. Their struggle is not my own, but I join my prayers with theirs—for justice, for righteousness.
The Sparrow
One day, returning from the prison walk
I met a sparrow taking the air too, on my way.
It was pecking at a piece of frozen bread,
a cold crumb lying between us in the snow.
'You and I are both hungry prisoners,' I said.
At that, it instantly let go the crumb and flew away,
and I thought, 'Are you less than this sparrow?
Why don't you drop the bread too, like this bird?
Why can't you free yourself from crumbs—and words?
(Mahvash Sabet, Prison Poems)