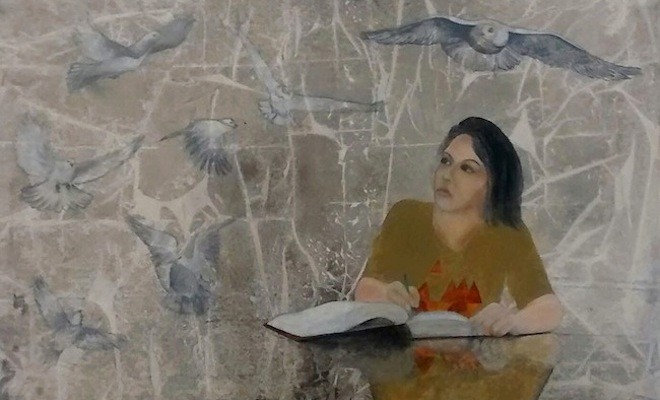 Drawing Beauty from Persecution: One Artist's Approach
|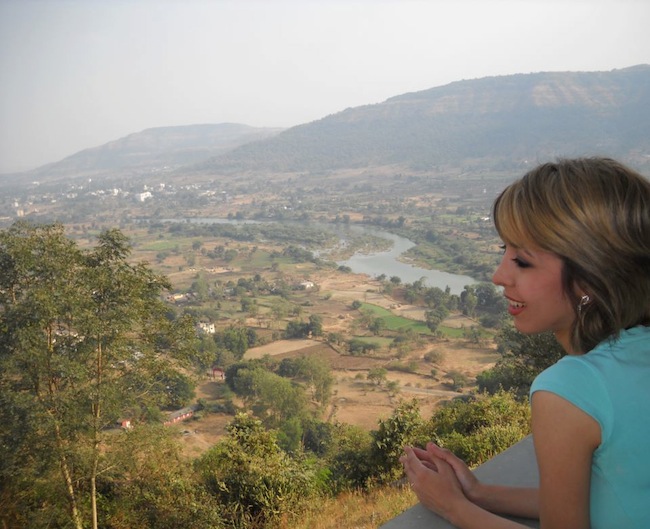 Meet Maryam Safajoo. She's a Boston-based painter, but was born and raised in Iran. Today she's working towards her Masters of Fine Arts and creates works inspired by the persecution of the Baha'is in Iran.
In Iran, Baha'is are denied the right to higher education in public universities. In response to this oppression, the Baha'i Institute of Higher Education was created. The institute has been responsible for educating many young Baha'is in Iran. However, many of the individuals associated with the informal school have been imprisoned by the government. To find out more, and how you can help, visit Education Is Not a Crime.
Maryam spoke with us about her paintings, and about her educational experience in Iran. Here's what she had to say.
Can you tell us a little bit about your experience in university in Iran? 
In Iran, when applying to go to university you used to need to fill out an application form on which they ask your religion. There were only four options: Islam, Christianity, Zoroastrian, and Judaism. If you were not a member of one of these, you were not able to go to college unless you were willing to lie.
In 2005, after 26 years of Baha'is being deprived from the right of education, the application forms were changed. Instead of asking your religion, they instead asked which religion you would prefer to answer questions about on the entrance exam; the same four options as before were listed. Baha'is were then able to choose any religion they felt they had more knowledge about and could take the exam.
The Baha'is entered into public universities after the entrance exam and were kicked out either in the first term, in the middle of their degree, or in some cases even in the last term. The principals of the universities called them one by one and had them expelled, like my brother who was kicked out in his first semester of college. He continued his education at the Baha'i Institute of Higher Education (BIHE).
I took this entrance exam in 2006 when I graduated from high school and I was accepted by a public university in Qazvin. At the same time I was also accepted by the BIHE but was encouraged to go to the public university in order to compensate for the lost rights of the Baha'is. The principal of my university was a good man and I was able to graduate only by chance. There are just a few of us Baha'i students who were not expelled from the universities and were able to complete our education in the public schools; this was by complete chance.
What would you like non-Iranians to know about the right to education in Iran?
I would like non-Iranians to know that Baha'i students in Iran are deprived of the right to higher education and even with this extreme limitation heaped upon them, they have not become discouraged. We can see the result of all the sacrifice of both Baha'i professors and students in the BIHE whose degree is now recognized by some of the most well-respected universities in the world.
This painting represents the expulsion of Baha'is from public universities and the creation of BIHE:
How long have you been painting? 
I have been painting since I was a child and I took some painting classes, but because the BIHE does not offer an art program I chose to study business administration at university so that when I was kicked out (as it was nearly certain I would be) I would be able to continue this course at the BIHE. I also studied a program of graphic design in Tehran University which granted a certificate upon completion. I am currently studying my Masters in Fine Arts (MFA) at the School of the Museum of Fine Arts in Boston, Massachusetts.
What do you hope to accomplish through your art? 
I would like to raise awareness about the persecution of the Baha'is in Iran through my art. I see art as a way to offer service to the community and also be active within the field of human rights.
To find out more about Maryam's art, check out her website and her Facebook page.
To learn more about the persecution of the Baha'is in Iran, visit Education Is Not a Crime.